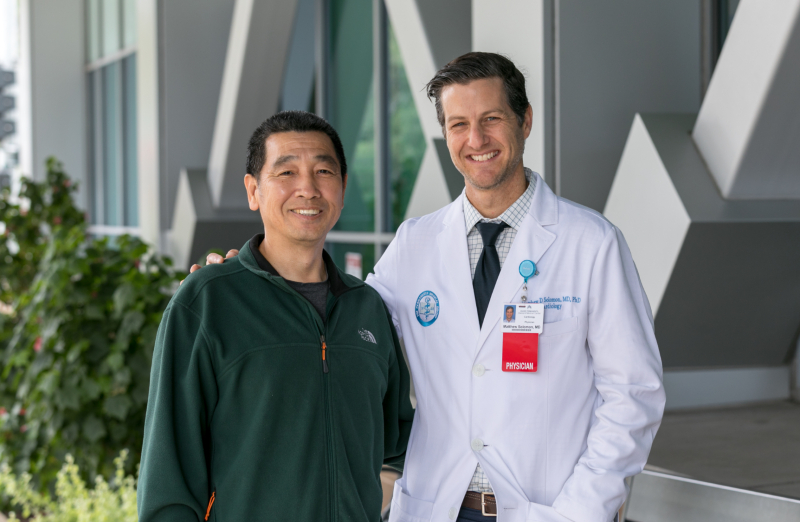 Fast response to save a heart
Quick, compassionate, coordinated care for heart-attack patient
By Anna Fiddler
Northern California Communications
The pain started in Rong Fang's chest in October of last year. A custodian at the University of California, Berkeley, Fang, 54, without a history of heart disease, knew something was wrong when he experienced several days of dizziness and labored breathing.
Originally from China and a Kaiser Permanente member for 19 years, Fang went to see his primary care physician, Albert Yu, MD, an internist with The Permanente Medical Group at the Kaiser Permanente Oakland Medical Center. Hearing Fang's symptoms, Dr. Yu told him to immediately go to the Emergency Department.
With Fang's status worsening, emergency medicine physician Siavash Sarlati, MD, quickly consulted Permanente cardiologist Matthew Solomon, MD, PhD.
"I heard a loud murmur with my stethoscope, and I knew something was seriously wrong, possibly a ruptured heart valve, which is a rare but deadly complication of a heart attack," recalled Dr. Solomon, who then performed a bedside ultrasound that confirmed Fang had a leaky mitral valve. Blood does not move through the heart or body efficiently in such cases, which can quickly lead to heart failure.
"I knew we had to act fast," Dr. Solomon said.
Fast teamwork
Dr. Solomon quickly called his colleague, Ahmad Sheikh, MD, a cardiothoracic surgeon at the Kaiser Permanente San Francisco Medical Center where one of the organization's three Northern California centers for cardiac surgery is housed. Together they decided that Fang would need to be transferred there to receive urgent open-heart surgery to repair the damaged valve.
We put the patient at the center of everything we do and work seamlessly together to return them to healthy, active lives.

— Permanente cardiologist Matthew Solomon, MD, PhD
To stabilize him in the meantime, Ahmed Shah, MD, a Permanente interventional cardiologist, performed an angiogram — which revealed a blocked coronary artery — in the Cardiac Catheterization Lab. He put in a stent to relieve the obstruction and an intra-aortic balloon pump to augment the heart's functioning. Fang recovered in the Intensive Care Unit (ICU) until his surgery in San Francisco.
"I was alone. My wife and daughter were in China," Fang recalled. "I was so nervous. But Dr. Solomon and the team talked me through the surgery, and the nurses were so supportive. I felt cared for and began to feel calm."
Heartfelt care
Under the care of critical care physicians Joyce Lo, MD, and John Taylor, MD, the chief of the ICU, Fang was monitored and then transferred by ambulance to the Kaiser Permanente San Francisco Medical Center, where he was watched closely overnight.
"I saw Mr. Fang in the early morning and we got him into surgery a few hours later," said Dr. Sheikh. "The successful surgery was about four hours. He recovered well and returned home in a matter of days. Kaiser Permanente has distinguished itself by improving outcomes through centralizing such complex, high-acuity cases."
Fang went back to work this past May and is continuing to enjoy his life — particularly walks on the beach near his home in Alameda. He continues to see Dr. Solomon regularly to review medications, any post-operative questions, diet and lifestyle.
This successful outcome demonstrates the care provided at Kaiser Permanente, where physicians and care team members provide coordinated care that's Permanente Medicine. "These are the types of experiences that make you proud to work in an integrated care delivery system," said Dr. Solomon. "We put the patient at the center of everything we do and work seamlessly together to return them to healthy, active lives."
Anna Fiddler is a staff writer with Kaiser Permanente Northern California Communications. This story is reprinted from the Look Inside KP Northern California site.