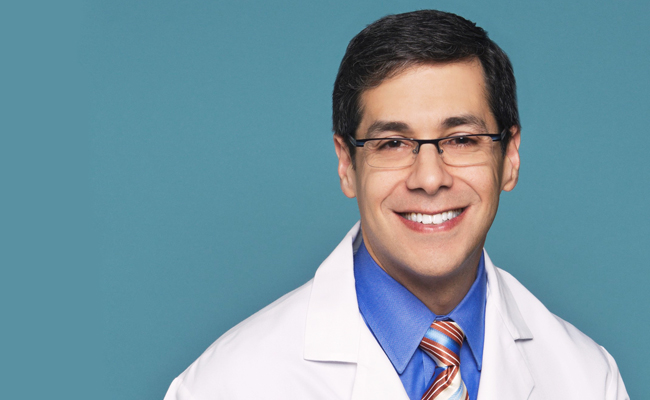 Joseph Territo, MD, Helps the Mid-Atlantic Permanente Medical Group Strive for Highest Levels of Clinical Quality
By Athan Bezaitis
The Permanente Federation
The sights and sounds of his parents caring for patients are some of the earliest memories that Joseph Territo, MD, recalls.
The Territo family lived next to the medical offices in suburban New Jersey where his mother (a pediatrician) and father (an internist) practiced medicine. Growing up, Dr. Territo and his three sisters spent their weekends waiting in hospitals while their parents made rounds. Health care was dinner table conversation for most of his early life, so it came as no surprise that he and one of his sisters went into the family business – both becoming ophthalmologists.
Dr. Territo was attracted to ophthalmology because of the immediate ability to intervene and improve an individual's quality of life by preserving and restoring vision. He pursued subspecialty training in pediatric ophthalmology.
"I really found it rewarding to deal with patients in an outpatient setting, and I liked the precision of surgical interventions," he says.
'Top Doctor' Honors
A sampling of the recognition that he has received over the years speaks volumes for the excellence of his work. He has been named "Top Doctor" by Northern Virginia Magazine five times since 2012, and a "Super Doctor" by the Washington Post in 2013.
Dr. Territo came to Kaiser Permanente in 1999, joining the Mid-Atlantic Permanente Medical Group (MAPMG) initially in a part-time role and eventually becoming a full-time physician shareholder in 2002.
"I really loved it immediately. You're part of a larger multispecialty medical group. It was nice to work alongside specialists and primary care physicians," he says.
Right away, Dr. Territo says, he felt empowered by the tenets of Kaiser Permanente's integrated health care system. Care is coordinated. As a doctor and specialist, he makes the final decisions about his patients' care; he doesn't have to submit a care plan to an insurance company. When he orders imagery, such as X-rays or scans, he does not have to get them approved. And this is all contained within one system powered by a shared electronic medical record.
"Permanente Medicine resonates with me," Dr. Territo says. "It's the shared values of evidence based-care delivered in a prepaid model where quality of care is valued more than volume of care."
In his practice and beyond, Dr. Territo has taken the traditional concept of how a physician provides care for patients and dedicated his career to optimizing it. This is largely the work of his role as associate medical director for Quality at MAPMG.
Permanente Medicine leads with quality and stresses the importance of measurement.
Armed with Lean and Sigma Six training, which emphasizes reliability to improve business processes, Dr. Territo works to provide tools and design workflows for the practice of medicine that "makes the right thing easy to do." He's also taken patient safety coursework at the Institute for Healthcare Improvement, which he described as "life-changing."
He is also a visual person; as an undergraduate he double majored in history and fine arts, which aids his Quality work in achieving performance targets and goal setting. "I focus on how information is visually displayed to make sure that it's digestible and elicits a response," he says.
Straight Path to Quality Care
The work of a true Quality leader, Dr. Territo says, is to reduce waste and remove barriers to create linear paths for care solutions. Too often care teams are working hard for varied results when in most cases a proven path can lead to a more reliable outcome.
"Permanente Medicine leads with quality and stresses the importance of measurement. For example, outcomes, such as hypertension control, are fair to measure in our system," he says.
The goal is to guide physicians to a better state with a focus on strategy, innovation, technology, and data analysis. At MAPMG, Dr. Territo's Quality team is a force of change with a proven track record for success.
MAPMG's rankings from the National Committee for Quality Assurance HEDIS® 2017 Quality Compass® include top scores in hypertension, comprehensive diabetes care, HPV screening for female adolescents, and diabetic retinal screening. These are just four of the 50 (out of 68 total) national effectiveness of care measures at or above the 90th percentile benchmark.
"It's being good broadly as opposed to being good at one or two things," Dr. Territo adds. "We are a little region with fewer resources compared to California, but we can make changes rapidly and see the results almost immediately."
To those considering practicing Permanente Medicine, Dr. Territo stresses the many chances for personal and professional growth he's found with MAPMG. "These opportunities can harness creativity, innovation, and other attributes physicians have that might otherwise go untapped."
Dr. Territo is an example of how varied and enlightening a lifelong journey in medicine can be.