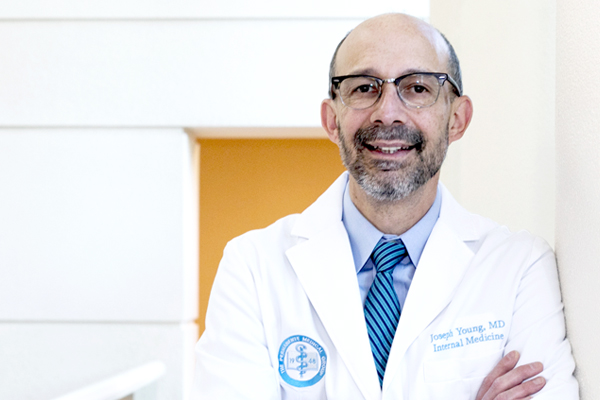 Excelling in Patient-Focused Population Management
Joseph Young, MD, Champions Industry-Leading Hypertension Control
As an internist, Joseph Young, MD, focuses on the health of the patient in front of him. But when deciding where to practice medicine, he sought out an organization that would allow him to care for his patients and have an effect on the overall health of the larger community.
"I was interested in joining a medical group where advancing the health of a large community in a group practice was the model," says Dr. Young, who joined The Permanente Medical Group (TPMG) in 1991. TPMG is the physician group that provides exclusive care to Kaiser Permanente patients in Northern California.
"I believed TPMG would give me the best opportunity to have a significant impact on the health of a large group of people while also having a great deal of personal and professional satisfaction," he says. "We have the opportunity here to take care of a large population of people that is diverse in so many ways – culturally, socio-economically, language, age. This setting provides fertile soil for innovation, particularly in terms of providing care beyond a physician's office."
Hypertension Champion
For the last 17 years, Dr. Young has played a significant role in improving the health of Kaiser Permanente patients through his work in hypertension control, starting off as a hypertension champion for the Kaiser Permanente Oakland Medical Center to his current position as TPMG's clinical hypertension lead and national clinical hypertension lead for Kaiser Permanente's Care Management Institute.
Programs and tools Dr. Young helped to implement have led to Kaiser Permanente Northern California becoming a national leader in hypertension control. Since 2006, the region's hypertension control rates have been among the best in the nation and above the 90th percentile in NCQA-HEDIS (National Committee for Quality Assurance-Healthcare Effectiveness Data and Information Set) measures.
Treating hypertension is one of the most effective and life-saving interventions that we have at our disposal.
TPMG's program has been shared across the organization, helping other regions such as Kaiser Permanente Mid-Atlantic States to rank high among hypertension control measures. Nearly 90 percent of Kaiser Permanente patients with high blood pressure have it under control.
In fact, the Centers for Disease Control and Prevention's "Million Hearts" hypertension program features Kaiser Permanente's treatment algorithm as an evidence-based protocol to adopt.
"Treating hypertension is one of the most effective and life-saving interventions that we have at our disposal," Dr. Young says. "At Kaiser Permanente, we have organized, thoughtful, and supportive systems in place that have facilitated significant performance improvement. And that's a tribute to the hard work, dedication, and support of everyone in the organization."
Integrated Approach to Hypertension Management
Kaiser Permanente's integrated model of care, powered by Permanente Medicine, provides our doctors with an advantage in population management. A sophisticated electronic health record helps systemize protocols, and a culture of preventive medicine feeds the calling of physicians to continuously improve the quality of care for patients.
Dr. Young said some of the key elements to developing an effective hypertension management program included the following:
Creating a registry. Kaiser Permanente's hypertension registry, which now exceeds 600,000 patients, allows doctors to track those with high blood pressure and use statistics and patterns to develop treatment that's applicable to everyone.
Developing a treatment algorithm. An evidence-based algorithm was developed that's easy to follow for clinicians and patients. This involved, for example, simplifying medication. Most patients with hypertension require two or more drugs. The TPMG algorithm's first step starts patients on two medications with a single-pill combination tablet, which led to improve adherence. A dose-escalation protocol was also simple for patients to follow.
Medical assistant blood pressure checks. Implementing these checks increased the frequency of patients' blood pressure measurements, helping to make measurements more accurate. "We measure a patient's blood pressure," Dr. Young says, "and when it's elevated we escalate the treatment and then bring the patient back in to repeat blood pressure measurement. And we keep repeating this cycle until the patient achieves blood pressure control."
Dr. Young's leadership in hypertension management has garnered recognitions such as the TPMG Sidney R. Garfield Exceptional Contribution Award and the American Stroke Association Stroke Hero Award. He's a proponent of healthy living himself, running regularly with friends whenever possible. He also finds time to connect with his family, which includes his wife and three children.
For Dr. Young, his hypertension work has been an eye-opening journey of the possibilities of population management. "We tend to focus on the patient in front of us, and rightly so. That is always our highest priority," he says. "But at any point in time, we are really taking care of a community."