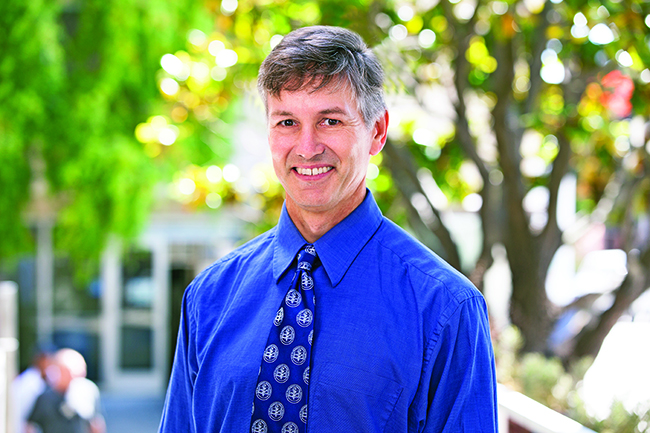 Empowering data to improve health
Douglas Corley, MD, PhD, will lead Delivery Science Program for optimizing care, treatment for patients
By Janet Byron
Division of Research Communications
Douglas A. Corley, MD, PhD, of the Kaiser Permanente Division of Research, this month takes on the newly created regional role of medical director of Delivery Science and Applied Research for The Permanente Medical Group (TPMG), with the goal of strategically using data to optimize care and treatment across Kaiser Permanente's Northern California Region.
"It is exciting to work with our innovative clinicians, leaders and researchers in this new role. Everyone is interested in accelerating improvements in patient outcomes, adding value to health care, and improving patient and physician well-being," Dr. Corley says. "The challenge is how."
Dr. Corley will be responsible for developing and implementing a research program that advances the creation of evidence-driven strategies to improve the delivery of health care.
"This new effort will develop new resources and link together existing ones, to provide our regional teams with support for evaluating programs, answering key clinical questions, and implementing changes from the new knowledge generated," he says.
Powerful data resources
TPMG's program expands on the pilot Physician Researcher Program begun in 2017 and the Division of Research's dynamic Delivery Science portfolio.
As an example of the kind of project the program will be pursuing, Dr. Corley cites a recent project undertaken by Betty Suh-Burgmann, MD, gynecological oncologist at our Kaiser Permanente Walnut Creek Medical Center and a member of the pilot Physician Researcher Program.
"She evaluated a common clinical question in gynecological practice — can we predict which incidentally discovered ovarian cysts will be cancerous?" Dr. Corley says. "She then used TPMG's powerful data resources to evaluate the question, collaborated with radiology to develop a new reporting template with risk categories, and implemented the findings.
"The final result was personalized care with surgeries tailored to risk, improved patient outcomes, fewer unnecessary operations and ultrasounds, and decreased patient and provider worry."
Innovator. Collaborator. Educator.
Yi-Fen (Irene) Chen, MD, TPMG's associate executive director for quality and research, says Dr. Corley will provide expertise in both the clinical and research areas.
"Doug is an innovator, collaborator, and educator," Dr. Chen says. "He will be a great helper to the operational and clinical leaders to design their research studies, see them through the investigative thinking process, and finally translate their results into implementation in the clinical setting."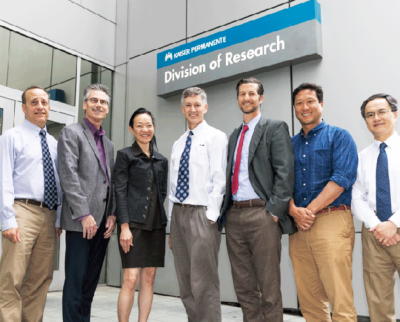 After completing his medical training and fellowship at University of Pennsylvania, Brigham & Women's Hospital, and University of California, San Francisco, Dr. Corley obtained a master's degree in public health and doctorate in epidemiology from the University of California, Berkeley. In clinical practice at UCSF, he chaired the gastroenterology faculty. Corley joined TPMG and the Division of Research in 2002.
"Throughout his career he has blended clinical care with top-quality research," says Tracy Lieu, MD, director of the Division of Research. "Doug never sleeps."
A recipient of TPMG's Morris Collen Award for research, Dr. Corley has garnered international recognition for his work evaluating practical problems with the potential to change clinical care. He has led numerous national grants and collaborations while holding leadership positions including director of the Physician Researcher Program and editor in chief of his specialty's leading journal, Gastroenterology.
In addition to his new role, Dr. Corley will continue as senior research scientist and practicing gastroenterologist at our Kaiser Permanente San Francisco Medical Center.
"Doug has a passion for working creatively on medicine's fundamental questions and tough challenges," says James Chang, MD, TPMG's associate executive director for surgical services. "This is an exciting new opportunity for TPMG to bridge research and operations, which will lead to quality outcomes and support our organizational success."
Janet Byron is senior communications consultant with the Kaiser Permanente Division of Research. This story first appeared on the Division of Research.