Doug Newton, MD, Addresses Stigma of Depression Among Adolescents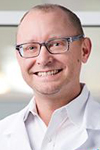 Doug Newton, MD, MPH, chief of Integrated Behavioral Health and Child and Adolescent Psychiatry for the Colorado Permanente Medical Group, recently spoke on a NPR report on the importance of depression screening among adolescents.
Only about 50 percent of adolescents with depression get diagnosed before reaching adulthood, the NPR report states. "Stigma is a huge challenge," Dr. Newton says, "specifically for adolescents. Oftentimes they're not coming in to get help because of the stigma attached."
Dr. Newton, clinical lead for adolescent behavioral health at the Care Management Institute, also highlighted Kaiser Permanente's "Find Your Words" campaign, which encourages open and honest communication about depression.