David Grossman, MD, discusses clinical interventions for firearm injury at National Academies
Last month, Kaiser Permanente joined other health systems, hospitals, and health care professionals for a firearm injury and death prevention workshop hosted by the National Academies of Sciences, Engineering and Medicine in Washington, DC.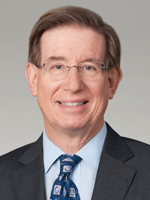 Among the workshop speakers was David Grossman, MD, MPH, senior associate medical director, Washington Permanente Medical Group, and senior investigator at Kaiser Permanente Washington Health Research Institute. Dr. Grossman participated in an expert panel focused on primary prevention and evidence-based interventions.
"Part of the process is not only the science of understanding the right thing to do, but also how to implement and make it easy to do using both the best evidence and right interventions," said Dr. Grossman, who is co-leading Kaiser Permanente's Task Force on Firearm Injury Prevention.
In April, Kaiser Permanente announced a $2 million investment in research for gun injury and prevention and the formation of a task force to address critical health issues around gun-related deaths and injuries in our communities. Since then, the task force has been collaborating with experts, clinicians, and researchers to help shape the focus of Kaiser Permanente's research program and identify evidence-based tools to guide health care systems to be more effective in preventing firearm injury and death.
During his National Academies presentation, Dr. Grossman outlined six critical points for addressing firearm injury from a clinical perspective. "It's imperative to understand how to intervene with gun injury and death occurring to our patients," he said.
To watch Dr. Grossman's presentation, visit the National Academies of Sciences, Engineering and Medicine website.