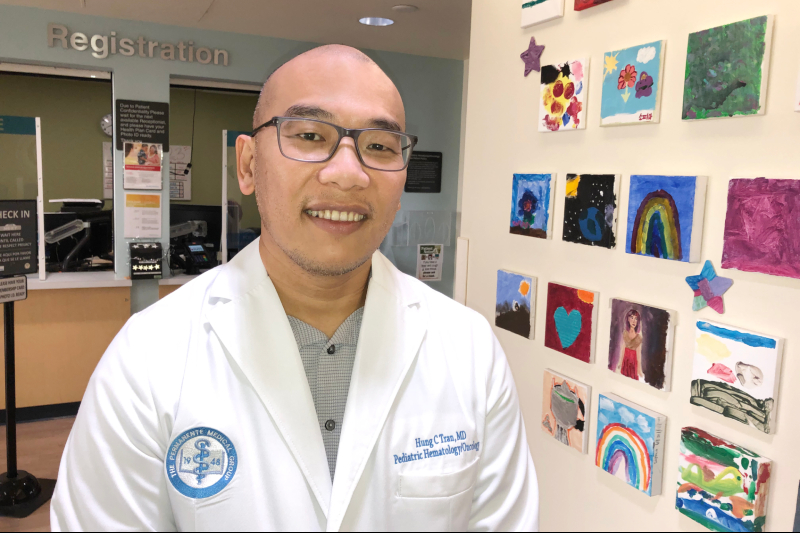 Comprehensive, compassionate care for children with cancer
Hung C. Tran, MD, leads TPMG's highly specialized, integrated pediatric hematology-oncology care
By Janet Byron
The Permanente Federation
Hung C. Tran, MD, regional leader of Pediatric Hematology-Oncology for The Permanente Medical Group (TPMG), has led the highly specialized and integrated care of children with cancer in Kaiser Permanente's Northern California region since 2017.
"The practice of pediatric hematology-oncology is a team effort," Dr. Tran says. "As I continue to receive excellent mentorship, I hope to provide the same in return and to lead positive changes for our members and staff."
The risk of a child developing cancer remains relatively low. For example, leukemia — the most common pediatric malignancy — affects 5 of 100,000 children every year. Nonetheless, cancer remains the most common cause of disease-related death in children.
At Kaiser Permanente, children with cancer are treated by highly specialized care teams and the majority of patients are enrolled in clinical trials — national research studies that not only provide cutting-edge treatments but also help to facilitate the continuous improvement of protocols for all children with cancer.
In recognition of Childhood Cancer Awareness Month in September, we asked Dr. Tran about his journey to becoming a Permanente physician leader, the challenges of treating children with cancer during a pandemic, and how he achieves joy and meaning in medicine.
How did you become a physician leader with TPMG?
To me, leadership is service. I became the regional leader of The Permanente Medical Group's Pediatric Hematology-Oncology department as an extension of my practice, to improve service to our members on a more macro level, and because I wanted to care for patients in a state-of-the-art facility where clinical excellence backed by evidence-based medicine is practiced every day. I am fortunate to work for an organization that understands the importance of every member of its care teams and invests in physician leaders.
What role does clinical research play in pediatric hematology-oncology?
The field of pediatric hematology-oncology has made remarkable progress within the last 30 years in improving survival outcomes for children diagnosed with cancer. Clinical research plays a critical role in making this achievement possible. Our department currently directs an active clinical trial program within the Kaiser Permanente Northern California Division of Research.
Kaiser Permanente Northern California has a very high rate of patient participation; in fact, we are consistently ranked in the top 10th percentile nationwide for the number of enrollments among Children's Oncology Group clinical research sites. TPMG's investment in pediatric clinical trials enables our patients to have access to the latest treatment protocols and to participate in research that may not only benefit them directly but also future patients.
What do you want Permanente physicians to know about how Kaiser Permanente manages the treatment of childhood cancer?
We have developed rigorous regionwide guidelines for workup regarding specific symptoms via the revamped consulting system, known as eConsult 2.0, in Kaiser Permanente's electronic health record. Additionally, specialists in the Pediatric Hematology-Oncology department are always available to answer any additional questions for more complex cases.
How has the pandemic affected the care of children with cancer?
Treatment for childhood cancer is complex, often involving multiple medical disciplines across departments. During the COVID-19 pandemic, we must balance the need to deliver medical care while minimizing our patient and staff exposure risks. We work as a team with fantastic nurse case managers to ensure that medical appointments, lab draws, and procedures are all coordinated to minimize patient exposure and maximize the value of every on-campus visit.
Kaiser Permanente's integrated system excels at these types of collaborations. For example, one of my patients recently received a doctor's visit, an echocardiogram, and radiological imaging all within one visit to our medical center. We must strive to maintain this type of cross-departmental teamwork long after the pandemic has passed.
How are you finding joy and meaning in medicine, and taking care of your own wellness these days?
The practice of pediatric hematology-oncology is often simultaneously challenging and rewarding. There is so much humanity embedded in our practice. My team leads a "meditative moment" every week to check on how we are doing emotionally. I think peer support is key to team wellness.
In these moments, we often look to the humanities, especially poetry, to help us process the many experiences of the human condition. The act of reading and sharing poetry has helped me gain a wider perspective and maintain emotional equanimity through these difficult times.