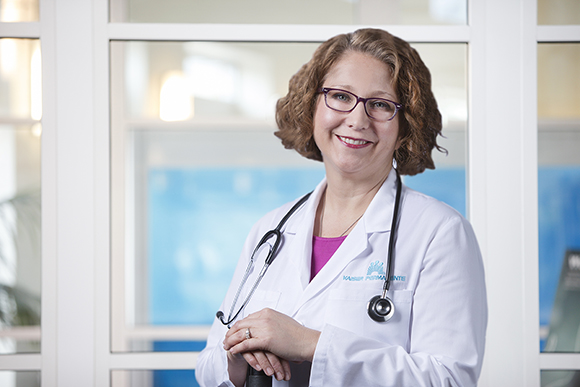 Compassionate Doctor Focuses on Patients
Kelly Foley, MD, Follows a Path that Leads Her to Kaiser Permanente's Model of Care
Last year, Kelly Foley, MD, was one of six physicians to receive the Permanente Award, which is the highest honor given by the Colorado Permanente Medical Group (CPMG) to one of its physicians. Recognized by her peers as "the doctor's doctor," the award is presented to exemplary, collegial clinicians and role models who demonstrate the best practice of Permanente Medicine and its impact on patient health.
The fact that she did not know she would end up on this path in medicine makes it that much more fulfilling for her.
Growing up in rural Michigan just north of Ann Arbor, Dr. Foley always had an interest in math and science. But no one in her family was in medicine, and her parents never went to college.
A family tragedy in her late teens convinced her to pursue a career in health care. Her then 28-year-old sister experienced a traumatic brain injury from a car accident, and as a result the entire family ended up spending a significant amount of time in and out of medical facilities.
During this experience, Dr. Foley realized the importance of compassion when it comes to how a physician can care for patients and families. She set her career sights on becoming the kind of doctor who can be a trusted source of guidance for people in need.
Today, Dr. Foley is a hospitalist and serves as assistant market medical director of Hospital and Specialty in Southern Colorado. She helped create the first CPMG Hospital Medicine team in Southern Colorado, and her leadership continues to help forge new specialty programs to improve patient care. CPMG is the Permanente Medical Group providing care to nearly 700,000 Kaiser Permanente patients and members in Colorado.
Forging Her Own Path
Having grown up near a lake, Dr. Foley also had an interest in water sports and the outdoors. So after graduating from medical school, she knew she wanted to do her residency somewhere conducive to outdoor activities. "I wanted to be able to work hard and play hard," she says.
That's how she landed in Colorado (and its mountains for skiing) and at Denver's St. Joseph Hospital. At the hospital, she interacted often with CPMG doctors who were involved with the residency program.
"The CPMG physicians I met were so involved in teaching us as residents," Dr. Foley explains. "They had a broad knowledge base and teaching was a priority. They seemed more balanced and had more opportunities for advancement. To me it seemed like the CPMG organization was always striving to be better. It left a big impression on me."
Understanding the K and P
After her residency, Dr. Foley took a circuitous route to Kaiser Permanente. She first went into private practice in North Denver for a few years before returning to the faculty of St. Joseph Hospital. She rekindled her relationships with the CPMG doctors she worked with during her residency, and answering a need to go back to clinical practice she joined CPMG as a physician.
Having worked in private practice, Dr. Foley says she had a better appreciation of Kaiser Permanente's integrated care model. "When I first started I didn't understand the full impact of the K and the P," she says, referring to the care model of a health plan working in partnership with a physician group. "It was only after I got into private practice and experienced it for myself did I really understand what the integrated model empowered us to do on behalf of patient-centered care."
As for Southern Colorado, she always had a tie to the area since her husband, an Air Force veteran, was based in Colorado Springs. When Dr. Foley established the CPMG hospital medicine program in 2013, her responsibilities grew to include her role as assistant market medical director in which she helps to address patient-care issues for the ever-expanding area.
In her nomination for the Permanente Award, several people noted Dr. Foley's tenacious ability and innovative approach to getting things done. "With her leadership, we have made big strides in both care delivery and employee morale," writes one colleague.
Patients as Priority
Dr. Foley notes that she does this by recruiting the right team. "(Permanente) physicians on my team always have patients at the center – that is their top priority," she says. "But they must be resilient and adaptable, too. I recruit physicians who are adventurous and understand that our systems will always require change and evolution to support them in providing the best care for our patients."
As the health care industry continues to change with several different models of care emerging, Dr. Foley believes the Kaiser Permanente model still shines brightest. "There is a lot more competition," she says. "But at the end of the day, we know having care and coverage together provides the greatest value to our patients – we believe in our model and its staying power."