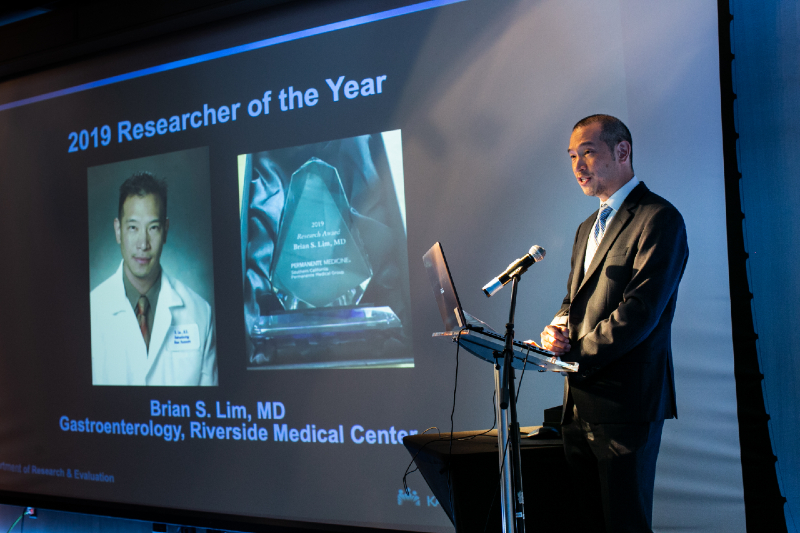 Compassionate care runs in the family
Brian Lim, MD, follows father's example while conducting award-winning research
By Michael J. Green
The Permanente Federation
Growing up in South Korea, Brian S. Lim, MD, would observe his father, Young-Eui Lim, leave the house every Sunday afternoon. He did not know where his father was going, only that it would be a few hours until he returned.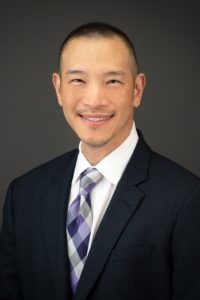 Dr. Lim later learned that his father, who worked as an internist and pulmonologist, was going to an island in South Korea where the residents lived in terrible conditions and had no access to health care.
"It was an island where all the garbage from the entire city of Seoul, the capital and largest metropolis of South Korea, was dumped," recalls Dr. Lim, an interventional gastroenterologist with Southern California Permanente Medical Group (SCPMG). "People there would live off picking items out of the trash, and they suffered from untreated sicknesses."
To help these individuals, Dr. Lim's father mobilized local health care professionals to provide free health care on the island. This act ultimately inspired Dr. Lim to pursue a career in medicine.
"When I found out what my father was doing, I decided I wanted to follow in his footsteps," Dr. Lim says. "He modeled to me what it meant to be a physician with compassion for his patients."
A calling
Following his dream to become a doctor, Dr. Lim earned a master's degree in clinical research from the University of California, Davis, and pursued a gastroenterology fellowship at UC Davis Medical Center. During this time, he received a grant from the National Institutes of Health, which funded his involvement in the Mentored Clinical Research Training Program.
I think we have potential to impact the world significantly through research, given these precious resources.
He earned the American College of Gastroenterology Governor's Award for Excellence in Clinical Research while at UC Davis, for his graduate thesis that investigated the effects of using a mechanical simulator in the training of endoscopic retrograde cholangiopancreatography (ECRP) — a procedure that treats problems of the bile and pancreatic ducts.
"Even though my post-fellowship research topics have mostly been unrelated to studying the quality of endoscopic training, the spirit of performing research to improve the quality of patient care remains," Dr. Lim says.
When his fellowship came to an end, Dr. Lim had several options for his next career step. The opportunity to work at Kaiser Permanente stood out.
"I really felt that I was called to Kaiser Permanente," Dr. Lim says. "Kaiser Permanente provides a platform where one can practice excellent clinical medicine, but also get involved in research and medical education, in addition to having leadership opportunities."
Physician and researcher
Dr. Lim started his career as a Permanente physician in 2009 at the Kaiser Permanente Riverside Medical Center, where he performed pancreaticobiliary endoscopy — an exploratory and therapeutic procedure for the pancreatic and biliary systems — and other advanced procedures. He served as research chair for Riverside Medical Center from 2012 to 2018, and he continues to advance his field by functioning as research coordinator for the UC Riverside Internal Medicine Residency Program. In addition to his work as a physician and researcher, Dr. Lim is an assistant professor withfor the UC Riverside School of Medicine, where he is one of the core faculty members helping with medical education.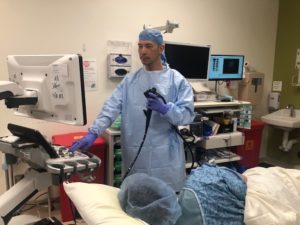 Dr. Lim balances research with seeing patients daily. His research now focuses on pancreaticobiliary diseases, such as pancreatic cysts, and advanced endoscopic procedures. He was part of the Regional Research Committee for Kaiser Permanente Southern California from 2012 through 2017 and received a research grant in 2018 for a surveillance study of pancreatic cystic lesions.
"Kaiser Permanente has so much to offer because of our wide reach, diverse patient population, and excellent medical record system," Dr. Lim says. "I think we have potential to impact the world significantly through research, given these precious resources."
Award-winning research
Dr. Lim's dedication to research and helping patients contributed to him winning the 2019 SCPMG Physician Researcher of the Year award.
"Dr. Lim truly embodies the values of Permanente Medicine, not only in his dedication to evidence-based medicine but also in his emphasis on empathy and kindness," said Rachid A. Elkoustaf, MD, area research chair for Riverside Medical Center, during the awards ceremony.
Upon receiving the honor, Dr. Lim expressed gratitude for his patients, many of whom demonstrate exceptional courage and endurance through their ailments. "We perform research for many reasons, but at the end of the day, the ultimate reason we engage in research is to improve care for our patients," Dr. Lim said in his acceptance speech.
A world of opportunities
Looking ahead, Dr. Lim is excited about the future of medical research in an increasingly interconnected world. "There is now more opportunity than ever before to share research findings across the globe," says Dr. Lim says.
Within this interconnected world of medical research, Dr. Lim sees potential for Kaiser Permanente to play an important role by using its unique resources to inspire new work.
By actively studying conditions such as pancreatic cysts, Dr. Lim believes he can assist other physicians in their management, which will translate into excellent care for patients with these conditions.
"I see a lot of patients who have pancreatic disease, and some are deathly afraid of getting diagnosed with pancreatic cancer," Dr. Lim says. "It's very rewarding that I'm able to educate these patients and empower them with tools to cope with these diseases and thus channel the same empathy toward patients that my father once modeled."