Medical leadership: Transform health care — and your career
Physician leadership reflects our commitment to deliver the best medicine possible
Under Kaiser Permanente's decades of medical leadership, our patient populations have continuously experienced quality care. That's why we believe that physicians are best situated to lead and make the fundamental decisions that impact care delivery.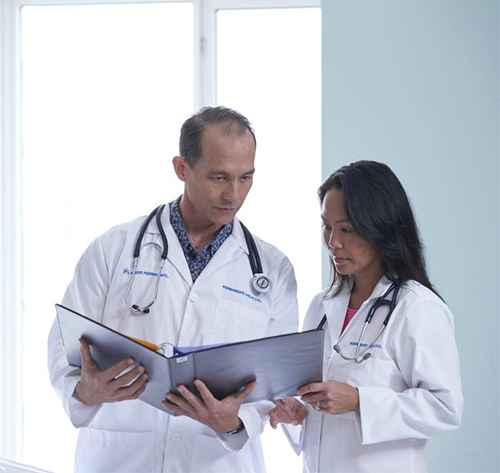 This belief — combined with the talents of thousands of Permanente physicians, our multispecialty practices, and the numerous facets of health care that we're actively pursuing — means physician leadership opportunities abound at the Permanente Medical Groups.
You'll find these opportunities at every level of responsibility and across specialties, business, and in all sites of care: ambulatory, hospital, virtual, and home.
If you want to help lead the transformation of health care in America, there is no better place to be than at a Permanente Medical Group. Our unique care model embraces a level of physician leadership rarely seen in other health care organizations.
Clinical leadership enhances prevention and valued-based care
Since the 1940s, the value of our medical leadership has made an impact. Year after year, Kaiser Permanente is among the nation's top-rated health organizations in 8 states and Washington, D.C.
Why? Because at the heart of the medicine that we deliver are physician leaders who embrace and practice value-based care. This focus on value-based care starts with prevention and then leads us to seek out the latest evidence-based medicine. And if we can't find the solution we need, we'll innovate to create it.
Good, sound, physician guidance goes a long way to improving care delivery, system operations, clinical quality outcomes, and clinician satisfaction. … I'm sorry, but C-suite folks, unless clinicians, generally don't know what goes into point-of-care delivery decisions."
Boundless medical leadership opportunities await
Clinical leadership starts among our care teams. Permanente physicians, working in concert with colleagues and directing teams of expert clinicians, determine the best approach to treating people who are sick or hurt.
As doctors progress in their practice, Permanente Medical Groups develop and promote physician leaders from within to spearhead change and inspire colleagues and staff. Development opportunities and programs meet the needs of emerging leaders, newly appointed chiefs, and senior executives. These clinical leaders play a pivotal role in directing value-based care delivery across their departments, at their facilities, within their medical groups, and across the nation. For example:
Kate Koplan, MD, welcomed a chance to lead the rollout of our National Total Joint Replacement Initiative. "It is so important to recognize the innovation and contributions of individual physician leaders," she says. "From there, we can kickstart engagement and identify successful practices to spread."
Ericka Gibson, MD, MPH, a program director for Perinital Safety and Quality, led a multidisciplinary team of physicians and clinicians to develop the Cocoon Pregnancy Care Program. This innovative approach to maternal care tackles many risk factors of pregnancy, such as hypertension among Black women.
And Ameya Kulkarni, MD, chair of the Mid-Atlantic Kaiser Permanente Cardiovascular Institute, leads programs to provide speedy and effective heart care to patients. "Within each program, we continuously pursue innovations that will promote faster recoveries and better outcomes," Dr. Kulkarni says.
Leadership beyond medicine helps improve care
Uniquely, Permanente physicians assume leadership responsibilities for all management functions. Business leadership opportunities are rare at other health care systems, which often limit the insights and experience of clinical experts to advisory committees. At the Permanente Medical Groups, physicians don't just advise, they make decisions — medical and financial.
Supported by non-clinical professionals, Permanente physicians oversee essential business functions, such as:
| | | |
| --- | --- | --- |
| Quality and safety | Recruitment | External affairs |
| Communications | Staff management | Compliance |
| Strategy | Health  IT | Finance |
| Innovation | Physician wellness | Marketing |
Experienced medical leaders also have opportunities to transition between medical groups or pursue national leadership positions. Being a leader who practices Permanente Medicine offers a vast range of executive growth possibilities.
Medical leadership extends to the top
To ensure physician autonomy and the delivery of high-quality care, each Permanente Medical Group has a board of directors that is comprised of physicians. These directors provide governance, oversight, and direction, and ensure we deliver Permanente Medicine.
Finally, the Permanente Medical Groups are led by executives who continue to practice medicine. Referred to as "executive medical directors," they take ultimate responsibility for the successful delivery of care and outcomes at Kaiser Permanente. These nationally recognized medical leaders work closely with health coverage and hospital executives to ensure that we deliver exceptional patient care at every stage.
Ready for an opportunity to change lives, care delivery, and your career?
If you possess the passion and drive to make a tangible impact on improving and spreading our unique approach to care and care delivery, we invite you to explore joining our team.
Take the next step in your career — meet with us to discuss how you can contribute to and lead the transformation of health care delivery.