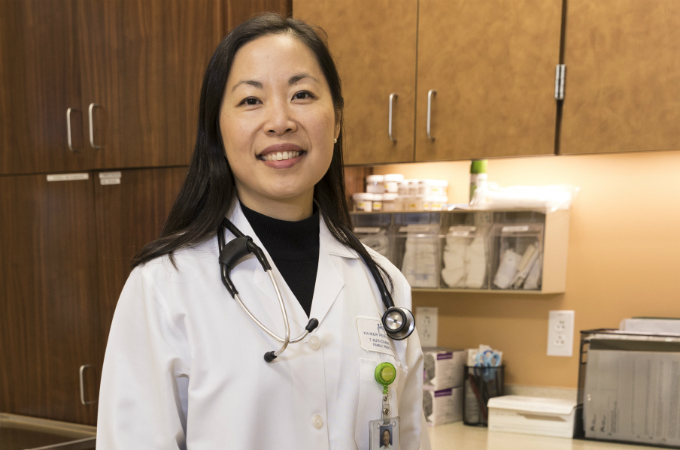 A Well Visit for Your Wallet
Dr. Ruth Chang Focuses on Improving Patients' Financial Well-being
By Athan Bezaitis
The Permanente Federation
Last year, the magazine The Atlantic ran a story that contained a critical statistic – almost half of middle-class Americans reported they could not access $400 in case of an emergency. It is no secret that a growing number of Americans forego needed medical care because of cost concerns, even when they are insured.
That's a problem that is on the rise given the growing number of Americans who now find themselves in high deductible health plans, but one that Ruth Chang, MD, a family medicine physician and director of Financial Health at Northwest Permanente, is working hard to solve. And with her background, skill set, and commitment, her innovative new programs to bolster members' financial health are already proving to be right on the money.
Kaiser Permanente isn't an exception to the cost-sharing trend; 2.5 million of the organization's 11 million-plus members are now in high deductible plans. In some Kaiser Permanente regions, like the Northwest, the percentage is even higher. Internal Kaiser Permanente data suggests cost is a barrier to patients filling their prescriptions one quarter of the time.
Equally concerning, research shows just 14 percent of Americans have a solid understanding of how their health insurance works, and comprehend basic terms like "deductible" and "co-pay."
A Commitment to Population Health
Dr. Chang seems to have been destined to help people understand the complexities of financial jargon. She began her undergraduate education studying math and women's studies but was quickly told by a professor that, "with those degrees and a dollar you could ride a street car." She subsequently pursued a master's degree in Public Health, where she soon began to care deeply about the well-being of populations.
Physicians need to know it is okay to talk about costs, and you have to have that conversation to help patients by steering them to our resources.
During that time, a respected professor encouraged her to attend medical school given her passion. Once she did, "the Kaiser Permanente model was the only one that made sense, and the only place I applied for work after my residency," she explains. Kaiser Permanente's model that balances individual patient needs with those of the communities it serves – and with health equity – is an important part of the appeal.
Over the years as she became a practiced and sought-after Family Medicine physician at Kaiser Permanente, an experience with a particular patient began to haunt her.
She had recommended a hip replacement for "Steve" (not his real name), a patient with degenerative arthritis, and he declined. His disability subsequently cost him his job, and Dr. Chang would later find out he didn't have the procedure because he couldn't afford it. The experience, she says, "was consciousness-raising."
Dr. Chang subsequently educated herself on the interplay between patients' financial concerns and adherence to treatment plans and soon realized this was both a problem and an opportunity for Kaiser Permanente.
Innovation in the Northwest
Now director of Financial Health for Northwest Permanente, Dr. Chang has implemented a series of cutting-edge programs to help patients with financial concerns manage their health and their finances.
Starting in 2012, Dr. Chang launched a campaign to educate the medical group about what it means to respect the financial health of patients. The curriculum centered on why cost matters to patients and how it can be a barrier to their care.
She also worked to create a system that provides seamless support for the patient and physician when the patient has questions about cost. If the physician and patient have a conversation about costs during the appointment, the physician or staff can place a call to the Pre-Registration team to get a real-time estimate for a test or procedure (in addition to using the online cost calculator).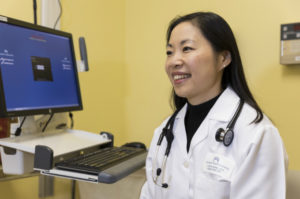 Last year, Dr. Chang led a pilot program using patient navigators to help patients with financial concerns. That program connected patients to financial health tools, Kaiser Permanente's Medical Financial Assistance, and other community resources. Early data compiled by the Center for Health Research indicates it improved care, and patient and provider satisfaction.
Across the board, Dr. Chang's efforts and the work in the Northwest Region have paid off, with an increasing number of patients in the area paying what they expected to pay. That may not sound significant but it is a critical piece of the puzzle when you don't want patients to have unexpected medical bills they haven't planned for – and cannot afford.
The Permanente Medicine Advantage
When it comes to the issue of financial health, "the Kaiser Permanente system already has several advantages," says Dr. Chang.
Because physicians are salaried there is no financial incentive to pursue unneeded care. At Kaiser Permanente, the integrated care model allows the primary care physician to have a consultation with a specialist for no additional cost to the patient. And the patient can rest easy knowing they are receiving the best in evidence-based medicine.
"It's right care, right time, right setting," she says. "That means no waste and unneeded costs for the patient."
The Challenge and Opportunity for Physicians
The trick, according to Dr. Chang, is for physicians to learn something not taught in medical school – how to talk about cost.
"It's not an easy conversation and patients are embarrassed," she says. "But physicians need to know it is okay to talk about costs, and you have to have that conversation to help patients by steering them to our resources. Our goal is to find a treatment plan our patients can follow and one they can afford to follow."
At the end of the day, she added, having that difficult conversation can lead to better care.
It's right care, right time, right setting. That means no waste and unneeded costs for the patient.
But with the change ahead in health reform with the new administration, and all the talk about price transparency, Dr. Chang has some cautionary advice. "Transparency is an important function but it is just the tip of the iceberg," she says. "We need to talk about affordability."
When she's not educating physicians on how to be the best partner they can be to their patients, Dr. Chang is a well-loved family medicine physician, sought after for her skills, credentials, bedside manner, fluency in multiple languages, and even her ukulele serenades. Music, she explains, is a way to connect with patients, who share the same passion.
Roots in Population Health
Dr. Chang loves practicing medicine, and is equally enthusiastic about practicing in a larger system so devoted to improving population health. Looking at the next generation of physicians, she believes she's not alone.
"A commitment to care quality and public health is a shared value of Permanente physicians," she says, "and the new generation of physicians is especially excited to be part of something bigger."