Rx for What Ails Health Care
Mistreated: Why We Think We're Getting Good Health Care—and Why We're Usually Wrong
By Robert Pearl, MD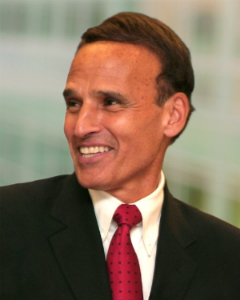 My father was an amazing man. The son of immigrant parents, he put himself through dental school, volunteered to be a paratrooper in World War II and survived D-Day. Sadly, he died prematurely from an avoidable medical error. In retrospect, had all of his doctors had access to a shared comprehensive electronic health record, they could have coordinated his care. Instead, they missed an important step in his medical treatment, an error of omission that led to his demise.
When I tell audiences his story, I invariably hear from dozens of families that have suffered similar tragedies. It shouldn't be like this. And based on my experience, it doesn't have to be like this. But change comes very slowly in health care.
That's the very personal reason I've written a book, Mistreated: Why We Think We're Getting Good Health Care—and Why We're Usually Wrong. I dedicated the book to his memory. By helping the patient in all of us understand the shortcomings of the current health care system and how it can be improved, I hope to expand high-quality health care for all. And for that reason, all profits will be donated to charity to provide medical care to individuals currently unable to obtain it.
The American health care system is ailing, and becoming sicker each year. And if nothing is done, it is likely to become critically ill in the future. The current debate in Washington, D.C., between proponents of the Affordable Care Act (ACA) and the American Health Care Act (ACHA) is predominantly over health insurance, including who will pay, how much, and for what. All of this is important, but unless we can transform care delivery, it won't matter. The cost of providing care will exceed the ability of government, businesses, and individuals to pay.
The U.S. spends 50% more on health care than any other nation in the world, yet our outcomes on almost every measure of quality are in the bottom half of industrialized countries. We know how to prevent tens of thousands of deaths every year from colon cancer, stroke, and heart disease, but we don't do it. And despite more than two decades of dialogue about patient safety, according to a recent study from Johns Hopkins, medical errors, including hospital-acquired infections, medication mistakes, and poor communication among clinicians, contribute to 251,000 deaths a year. And almost two decades into the 21st century, most Americans still can't communicate with their physicians through secure email, make an appointment online, or receive medical care through a video visit.
Coverage is essential, but until we turn our attention to addressing the way medical care is organized, reimbursed, technologically-enabled, and led, today's problems will only become worse. And that's the second reason I wrote Mistreated–to provide a roadmap for the future, and to serve as a catalyst to accelerate the process of change.
Over the last two and a half years, I've explored these ideas and opportunities in this column. I've focused on greedy doctors, insurance executives, and drug companies, but increasingly, I see the fundamental problem is the culture of medical practice. My hope in writing this book is to share my insights and perspectives with a broader audience. My passion throughout my career as a physician has been to improve the health of people. Early on, my efforts focused on patients referred to me with cancer, trauma, and birth defects. I found clinical practice incredibly fulfilling and satisfying, but wanted to impact the lives of more people.
For that reason, I took on leadership responsibilities at Kaiser Permanente. As executive director and CEO of The Permanente Medical Group from 1999 to 2017, I've worked hard to transform the way medical care is delivered, making it higher in quality, more convenient, and easily accessible. In keeping with that effort, I've championed technology, not only the comprehensive electronic health record but also the types of consumer conveniences and mobile tools and applications that we expect from our banks, travel websites, and retailers.
Why hundreds of thousands of patients die each year from preventable diseases and medical errors has never made sense to me. Much of the research for Mistreated examined this question. And through the process, I came to understand the reasons why. Applying research from the psychological literature, behavioral economics, and the most recent neurobiological studies, I identified different economic, social, and environmental factors that contribute to these unnecessary deaths. And most importantly, I identified what needs to change in the future to avoid them.
As patients and doctors, we often chase after the next "shiny new thing," overlooking the basics in the process. Most of the time, when patients develop an infection in the hospital, the bacteria were carried on the hands of a doctor or nurse from an already infected person to the innocent victim. Yet studies show that even today, clinicians wash their hands only about two-thirds the time. And decades after establishing the unmistakable correlation between smoking and cancer, one in six Americans still smokes, and states across the country not only permit it, but also benefit from the tax revenues collected. And despite an effective armamentarium of medications to control hypertension, the high blood pressure of almost half of the patients with this problem remains inadequately controlled, increasing the frequency of strokes by 40%.
Across the U.S., as patients, we are mistreated not as a result of inadequate knowledge, but instead from failing to value those aspect of health care, often relatively mundane, that make the biggest difference in achieving the highest-quality outcomes.
Physicians recognize that in treating patients with chronic illnesses, there is no magic pill to reverse the underlying condition, but instead fundamental changes in lifestyle are required. And they are acutely aware that once a patient with a long-term condition deteriorates, the risk of dying goes up dramatically, as do the costs to reverse it. Similarly, as a nation, we need to accept that there won't be a breakthrough technology that will make the changes needed to heal our ailing health care system easy to accomplish or painless, but it can be done. And as a result, hundreds of times more lives will be saved than through the development of ever more complex surgery and multimillion-dollar machines.
Mistreated was written for a third purpose as well–to encourage the patient in all of us to demand more of the health care we receive. I am optimistic that once we recognize and talk about the hundreds of thousands of people who die each year unnecessarily, we will do something about it. And once we understand the opportunities to obtain medical care without having to miss work or school, we will demand it for ourselves and our families. And as we redesign our nation's health care system and improve the way medical care is structured, reimbursed, and led, the cost of care will drop and more people will gain access.
To the hundreds of Forbes readers around the country who have offered comments and communicated directly with me about difficulties you and your loved ones have faced, I am grateful for the time you took and the courage it required. You've helped me expand my horizons, and many of your stories helped shape the book. The failures of today don't need to continue in the future. There are steps we can take to restore American health care to the pinnacle it deserves.
As such, the concluding chapters of the book provide a prescription, one that my father would want patients everywhere to have. Integrate the care provided so that it is coordinated and collaborative. Require all of the information and data in the health record of patients to be compiled into a single record to prevent errors of omission. Align incentives for doctors and patients through pay for value, not pay for volume or fee-for-service. And invest in physician leadership so that the doctor-patient relationship can be restored as the foundation for medical care. Change can happen, but it won't until all of us—doctors and patients alike—demand it.
---
Robert Pearl, MD, is former chairman of the board of the Council of Accountable Physician Practices, a certified plastic and reconstructive surgeon, and a Stanford University professor. Follow him on Twitter: @RobertPearlMD. This column originally appeared on Forbes.com.