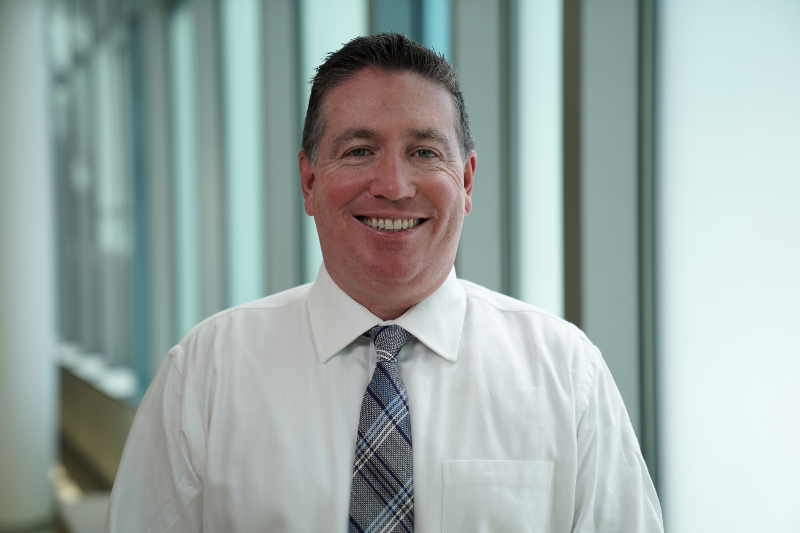 A fresh take on getting air to COVID-19 patients around the globe
Ted O'Connell, MD, recognized by White House for helping to create open-source oxygen concentrator
By Benjamin Seto
The Permanente Federation
With uncertainty swirling around the novel coronavirus early in the pandemic, Ted O'Connell, MD, FAAFP — like others in health care — felt the need to do something above and beyond caring for his patients as a family medicine physician.
This urge to help resulted in the creation of a series of COVID-19–themed podcasts, which then connected him with the right people and team when he started thinking of ways to help strained health systems care for COVID-19 patients. Talking with New York physicians who were at ground zero early in the pandemic to see what the greatest needs might be, Dr. O'Connell began tinkering with the idea of an oxygen concentrator equipped to support patients with respiratory issues. Dr. O'Connell and his collaborators shared the design as an open source, do-it-yourself device that could be used for developing countries challenged by access to oxygen supply.
Being part of the design process "was a good outlet for some pent-up energy and probably pent-up anxiety about this entire pandemic and what was a crisis for not just the country but the world," Dr. O'Connell says. "I just had this feeling of needing to be doing something active in addition to caring for patients and training our residents."
Presidential recognition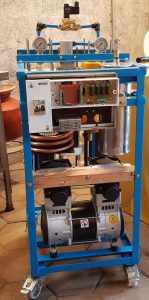 Dr. O'Connell, a family medicine physician with The Permanente Medical Group, is founding medical director of the Family Medicine residency program at Kaiser Permanente in Napa and Solano counties. His work helping to develop the oxygen concentrator and making it freely available around the globe recently received a President's Volunteer Service Award from the White House and AmeriCorps.
"I have a lot of gratitude that I was asked to be part of this," says Dr. O'Connell, who provided the clinical expertise to the oxygen concentrator design. While commercial oxygen concentrators already exist — working by pulling the air around a patient, concentrating it in a reservoir, then releasing through a flow meter — this new design increases the flow rate suitable for COVID-19 patients.
To prove how simple it would be for others to build the oxygen concentrator, the team gave the design to a group of high school students, who built a concentrator and posted it on YouTube. The design has now been picked up and deployed by several health organizations around the world.
"Dr. O'Connell's dedication and calling to help not only his own patients but also those around the world exemplifies the best of Permanente Medicine," says Christopher Walker, MD, physician in chief for the Napa-Solano area at The Permanente Medical Group. "It's important to support every one of our physicians to achieve joy and meaning in medicine, and Dr. O'Connell has been a clear example of infectious intellectual curiosity."
Dr. O'Connell and his team initially designed the oxygen concentrator with potential surges that might overwhelm U.S. hospitals in mind, but he says efforts to "flatten the curve" helped avoid critical shortages of oxygen in the United States. "But in developing countries," he says, "access to oxygen actually did become a problem and has continued to be a problem."
By working with engineers and designers, Dr. O'Connell was exposed to new skills and learnings. "The experience took me out of clinical medicine and got me thinking about engineering and health care systems in other parts of the world."
Born educator
Learning and education have always been a way of life for Dr. O'Connell. After completing his residency in Family Medicine, he sought out opportunities that allowed him to care for patients while still involved in training. He started his career with the Southern California Permanente Medical Group as a physician and faculty member of the Kaiser Permanente Woodland Hills Family Medicine residency program. He eventually became medical director of the residency program, and over his time with SCPMG he helped develop a community medicine fellowship that was expanded into 7 Kaiser Permanente sites throughout Southern California.
"I found that teaching provided a lot of professional satisfaction," he says, "and part of the Hippocratic Oath is actually focused on the idea of teaching and developing the next generation of physicians."
I just had this feeling of needing to be doing something active in addition to caring for patients and training our residents.

— Ted O'Connell, MD, family medicine physician
While the residency programs Dr. O'Connell helped to create are similar to others across the country because of national accrediting standards, he believes Kaiser Permanente's unique, integrated care delivery model provides residents at Kaiser Permanente programs with an exceptional opportunity to focus on individual and population health, and to better understand what it means to practice 21st-century medicine.
Training residents, he says, "allows me to have that magnifying effect of turning out great physicians into our communities to go out and take great care of their patients."