Mary Giswold, MD, says now is the time to create a regulatory framework for hospital-at-home care
In a recent interview with Health Evolution magazine, Mary Giswold, MD, chief operating officer of Northwest Permanente, said that now is the time to create a regulatory framework and playbook that paves the way for providing high-quality, hospital-level care in patients' homes beyond the current public health emergency — a need that grows as the health care industry faces the dual challenges of a lingering pandemic and a talent shortage.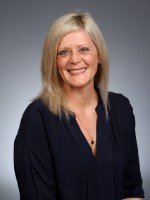 "We need a framework about how to do this so it doesn't take people so long to stand up these programs," said Dr. Giswold, who oversees KP at Home, a program that offers hospital-level care at home in Oregon and southern Washington. Creating such a framework could also help to extend the current hospital-level care-at-home flexibilities, which are set to expire with the COVID-19 public health emergency on April 16.
"2022 is the time for CMS to do this because, when the public health emergency ends, we're there and ready to help keep it moving," Dr. Giswold said. "We won't lose what we've learned."
Kaiser Permanente launched the Kaiser Permanente Care at Home initiative in many of its Northern California and Northwest hospitals in April 2020, as the pandemic swept the globe. Dr. Giswold said Northwest Permanente had planned to launch a hospital-level program a year before the pandemic arrived, but the program had stalled partly because there was no regulatory infrastructure for it.
In the fall of 2020, when CMS issued Acute Hospital Care at Home flexibilities under its Hospital Without Walls — temporarily waiving the requirement that inpatient care has to take place in a hospital — it brought clarity to the program, which was used as part of Kaiser Permanente's surge strategy within the Portland, Oregon area. The Oregon program has admitted over 1,100 patients in less than 2 years to treat a variety of conditions at home, including heart failure, pneumonia, COVID-19, and post-surgical care.
Under the waiver, Medicare payments to a hospital providing Acute Hospital Care at Home services are the same as for care provided in a traditional inpatient setting. However, the CMS waiver is set to expire when the public health emergency ends, putting programs offering hospital-level care at home in danger without the promise of reimbursement. Kaiser Permanente joined with Mayo Clinic and other organizations to form the Advanced Care at Home Coalition with the goal of creating a regulatory framework for such hospital-at-home care models. They're also advocating for CMS Innovation Center to create a safe, quality-based model that can be replicated across the industry. Dr. Giswold said federal regulatory action is needed to address states' patchwork approaches to compliance.
"It takes a village to stand up one of these initiatives: compliance, legal, quality, and operations leaders all working together to make sure you're standing up a program that is safe and that patients feel comfortable in," Dr. Giswold said. "A lot of smaller organizations may not have the resources to do that. That's where the coalition comes into play. We have an opportunity to help make this possible for other organizations."
Note: To read the entire article, visit the Health Evolution website.