Healthcare of Tomorrow: "Healthcare Community Change-Agents"
November 18, 2019 @ 2:45 pm

-

4:00 pm

U.S. News & World Report continues to advance its health care reporting, analysis, and industry insights by hosting the 7th annual Healthcare of Tomorrow summit. From Nov. 17 to 19, 2019, in Washington, D.C., Healthcare of Tomorrow unites the nation's top health care leaders – medical experts, hospital executives, policymakers, insurers, consumer advocates, and industry analysts to exchange ideas, share best practices, and set new standards for patient care.
Value and Population Health track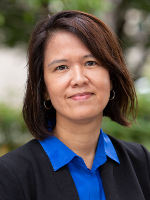 Permanente Medicine will be highlighted on a panel featuring Imelda Dacones, MD, CEO and president of Northwest Permanente. Dr. Dacones will be among the speakers on "Healthcare Community Change-Agents: Addressing the Social Determinants of Health" on Monday, November 18, 2019. Across the health care ecosystem, awareness is growing of the importance – and potential payoff – of investing in screenings and programs to tackle the true drivers of well-being, from food security and employment to early childhood literacy and housing stability.
Physicians and insurers alike increasingly understand that succeeding at value-based care and population health requires taking care of such unmet needs. Many hospitals and health systems have implemented programs, such as investing in housing programs to address homelessness and embedding clinicians in schools and community organizations. Some states are finding ways to make their Medicaid programs more accommodating, and the Centers for Medicare & Medicaid Services allowed Medicare Advantage plans to begin addressing some of these social factors this year.