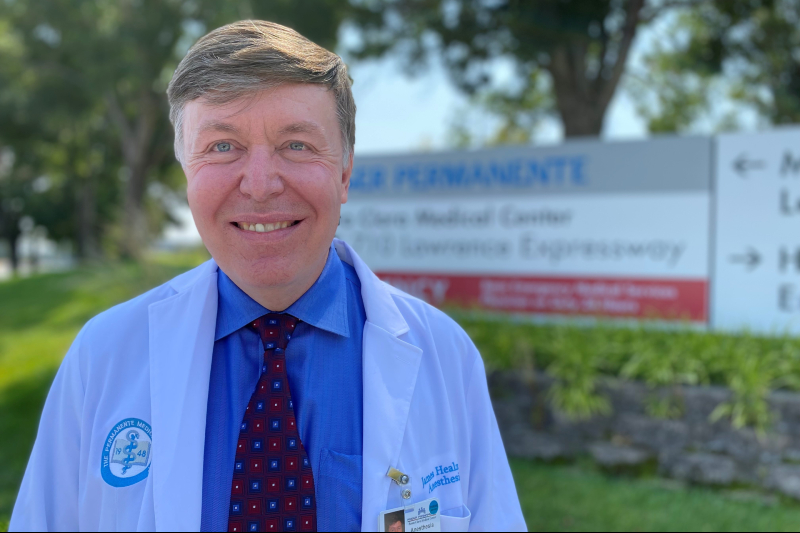 Ensuring quality medical care, protecting patient safety
James Healzer, MD, brings a passion for physician peer review to Medical Board of California
By Janet Byron
The Permanente Federation
Permanente anesthesiologist James Healzer, MD, brings a career-long passion for quality and patient safety to his recent appointment on the Medical Board of California, the government agency that licenses and disciplines the state's more than 115,000 physicians.
"First and foremost, my goal is to protect patient safety," says Dr. Healzer, who was appointed by Gov. Gavin Newsom to a 4-year board term in June. "It's important to have a fair and transparent process that evaluates concerns in an objective manner and applies standards of care based on the advice of experts."
In addition to investigating complaints against physicians, the California medical board makes recommendations to the state legislature and issues regulations on various aspects of medical practice, including requirements for physicians to be licensed in California and programs that promote physician health and wellness.
"It's important for Kaiser Permanente to have a seat at the table when those discussions are taking place," says Richard S. Isaacs, MD, FACS, CEO and executive director of The Permanente Medical Group. "With his integrity, leadership, and superb clinical skills, Dr. Healzer will play a critical role in helping to ensure that physicians in California meet the state's high standards for quality, patient safety, and fairness."
Helping surgery patients during a stressful time
Dr. Healzer, who practices at the Kaiser Permanente Santa Clara Medical Center in Northern California, said he was interested in becoming a doctor "for as long as I can remember," inspired by visits to his family's pediatrician as a child.
"I can remember going to see him for a well-child visit and admiring how he interacted with his patients," Dr. Healzer says. "I was intrigued by the idea of helping sick people feel better, just as he helped me when I felt sick. Many years later, I had the opportunity to visit him in the hospital, and I thanked him for inspiring me to pursue a career in medicine."
After graduating from Stanford University and the David Geffen School of Medicine at UCLA, he completed residency training in internal medicine. A month of training in anesthesia during the 4th year of medical school inspired him to pursue a second residency and board certification in anesthesia.
It's important to have a fair and transparent process that evaluates concerns in an objective manner and applies standards of care based on the advice of experts.

— James Healzer, MD
"Surgery can be a difficult, stressful time for patients, and I enjoy keeping them safe and comfortable during and after their procedure," Dr. Healzer says of his anesthesiology practice.
Not long after joining TPMG in 2005, he became assistant chief of quality, and then chief of quality for the Santa Clara Medical Center.
In the latter role, he assumed leadership of the medical center's peer review program, which assesses the work of licensed clinical professionals to ensure that standards of care are met.
Helping to improve physician practice
"I find the peer review process rewarding because of the focus on giving feedback, providing education about opportunities to improve our care, and helping physicians to improve their practice," Dr. Healzer says.
Since 2015 he has served as the chair of TPMG's chiefs of quality, which oversees the peer review of 9,500 Permanente physicians at 21 hospitals in Kaiser Permanente's Northern California region.
"Since taking on the role of chair of quality for TPMG, Jim has transformed our peer review process," says Irene Chen, MD, a TPMG associate executive director. "With his deep clinical expertise and passion for this work, he has created a strong culture in which clinicians think positively about peer review and embrace the opportunities to learn and continually enhance our care."
Dr. Healzer is now also chair of The Permanente Federation's Peer Review Advisory Committee, which includes physician leaders in quality from all the Permanente Medical Groups. The committee discusses and shares best practices for peer review and conducts interregional audits with an eye toward improving peer review practices across the regions.
This deep experience with physician peer review and quality closely aligns with the mission of the California medical board, Dr. Healzer says.
"Patient safety is at the heart of what we do. We all want to make sure that patients have good outcomes, and don't have adverse events occur as a result of being hospitalized or because of the care we provide."