Summer Edition of the Permanente Journal Now Available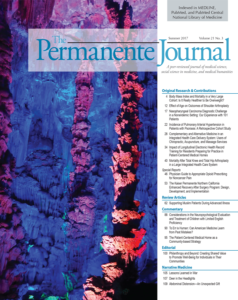 The latest Permanente Journal is now available for download, and includes a variety of peer-reviewed articles and studies on topics from total knee and hip anthroplasty to pulmonary arterial hypertension in patients with psoriasis. Learn more about Kaiser Permanente's Northern California Enhanced Recovery After Surgery Program designed to reduce post-surgical morbidity and mortaility in a report co-written by Stephen Parodi, MD, associate executive director of The Permanente Medical Group, and read a physician's guide to opioid prescribing for non-cancer pain written by Timothy Munzing, MD, the Family Medicine Residency Program director for Kaiser Permanente Orange County.
Read more about what's inside this quarter's Journal and click on articles of interest below. Or you can download the PDF for the complete edition.
Original Research & Contributions
Body Mass Index and Mortality in a Very Large Cohort: Is It Really Healthier to Be Overweight?
Arthur L Klatsky, MD; Jasmine Zhang; Natalia Udaltsova, PhD; Yan Li, MD, PhD; H Nicole Tran, MD, PhD
This retrospective cohort study in a multiracial population of 273,843 persons used logistic regression with 7 covariates (sex, age, race-ethnicity, education, marital status, smoking, alcohol intake). With average follow-up exceeding 30 years, there were 103,218 deaths: 41,215 attributed to cardiovascular causes and 62,003 to noncardiovascular causes. Compared with persons with body mass index defined as normal, persons who were underweight, overweight, and obese were at increased risk of death during a 30-year period.
Effect of Age on Outcomes of Shoulder Arthroplasty
Oke A Anakwenze, MD; Tameem Yehyawi, MD; Mark T Dillon, MD;Elizabeth Paxton, MA; Ronald Navarro, MD; Anshuman Singh, MD
In a retrospective cohort study of prospectively collected data, using an integrated health care system's shoulder arthroplasty (SA) registry (1/2007-6/2012), patients were grouped into older (> 75 years) and younger groups (≤ 75 years). The total SA cohort had 2007 patients, 538 (27% > age 75 years), and the reverse total SA cohort had 568 patients, 295 (52%) age > 75 years. In the total SA cohort, older patients had higher risk of readmission and mortality. In the reverse total SA cohort, older patients had lower risk of revision.
In a retrospective cohort study (1/2004-11/2012), there were 10,115 patients with mild psoriasis, 3821 with severe psoriasis, and 69,360 matched controls. On multivariable analysis, there was a significantly increased risk of pulmonary arterial hypertension (PAH) developing in the severe psoriasis cohort vs their controls. The systemic inflammatory process underlying psoriasis may be a cause for an increased risk of PAH, but there are numerous secondary causes of PAH.
The patient-centered medical home (PCMH) electronic health record (EHR) training consisted of case-based routine clinic visits delivered to 3 resident cohorts (N = 18). Participants (127) completed an EHR competency self-assessment (2011-2016). Comprehensive training designed to improve EHR competencies for practicing in a PCMH resulted in improved assessment scores. Findings indicate EHR training as part of resident exposure to the PCMH measurably improves self-assessed competencies, even among residents less engaged in EHR training.
Review Articles
Clinical Medicine
Commentary
Editorial
Narrative Medicine