Stephen Parodi, MD, writes about COVID-19's threat to the moral fiber of American clinicians
Stephen Parodi, MD, executive vice president of The Permanente Federation and national infectious disease leader for Kaiser Permanente, wrote recently on MedPage Today that COVID-19's fourth surge is testing the moral fiber of American clinicians.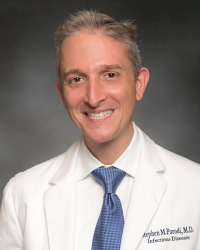 Dr. Parodi writes that the virus has infected more than 42 million Americans and claimed more than 675,000 U.S. lives in less than 2 years. As a new surge driven by the delta variant fills intensive care units, and scores of people, mostly unvaccinated, die unnecessarily, he writes that clinicians "find ourselves staring down a deep chasm – one filled with frustration and burnout, where the reserves of empathy are rapidly running dry."
For guidance, Dr. Parodi suggests clinicians look to the example set by predecessors who were on the front lines of health care during the AIDs epidemic in the early 1980s. Specifically, he recounts the story of the brave physicians and nurses who opened Ward 5B at San Francisco General Hospital, the first dedicated AIDS ward in the United States.
"Despite an unimaginably high fatality rate, lack of evidence about how the disease was transmitted, and an anemic governmental response, these volunteers were determined to bring humanity to their increasingly isolated and desperate patients," Dr. Parodi wrote. "At great personal sacrifice, they set aside their fears and an onslaught of societal judgment, including a hostile narrative that squarely blamed the 'personal choices' of those who contracted HIV."
Note: To read the entire article, visit MedPage Today.