Stephen Parodi, MD, warns of highly contagious delta variant in Parade
In a recent Parade story, Stephen Parodi, MD, national infectious disease leader at Kaiser Permanente, said the delta variant "was first identified in India in December and spread rapidly through that country and Great Britain before reaching the U.S., where it is now the dominant variant."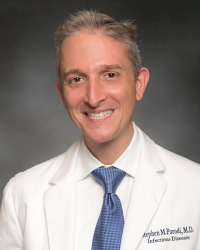 The highly contagious delta variant of the coronavirus is dominating news reports about the pandemic this summer. In the Parade article, Dr. Parodi and other physicians tried to explain what this means for people, especially those who are unvaccinated.
The Centers for Disease Control and Prevention reports that the delta variant is more transmissible that the common cold and flu. Dr. Parodi, an associate executive director at The Permanente Medical Group, said most serious cases of COVID-19 are hitting those who have not received a vaccine.
"Most cases — and severe outcomes — are occurring in places with low vaccination rates, [while] nearly all hospitalizations and deaths have been among the unvaccinated."
The Parade article provided additional answers from physician experts on whether vaccinated individuals needed to worry about the delta variant or if they could transmit it to others.
To read the full article, visit the Parade site.