Stephen Parodi, MD, projects big shift from hospital to acute home care over the next decade
During the keynote fireside chat for xTelligent Healthcare Media's 2-day Connected Health Virtual Summit, Stephen Parodi, MD, executive vice president of The Permanente Federation, predicted a major shift from traditional hospital care to acute care in the home.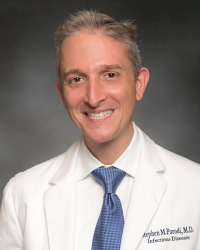 "I think over the next decade, up to a third of the patients that are currently hospitalized now in brick-and-mortar could be hospitalized in a program like this," Dr. Parodi said, referencing Kaiser Permanente's hospital-care-at-home program, which was launched in Northern California and Oregon in 2020. In its model, Kaiser Permanente has a single medical command center in each region supporting multiple hospitals to care for patients in their homes, during both their acute and restorative phases.
Dr. Parodi said the Kaiser Permanente program has been popular with patients, who like receiving care in the comfort, convenience, and safety of their homes. Using measures similar to the Centers for Medicare & Medicaid Services' Hospital Consumer Assessment of Healthcare Providers and Systems survey, Kaiser Permanente has found that patient satisfaction levels with the program is "off the charts," Dr. Parodi said.
The program is also popular with physicians because it allows them to treat the whole patient.
"As a clinician, I'm able to get tremendous insights into what's going on in that person's home," Dr. Parodi said. "For example, I can understand in a much more real and granular way, what is the true risk of a fall in a person's home? What's the risk of food insecurity or nonadherence to recommendations around food and nutrition?"
Delivering hospital-level care at home provides physicians with greater insights into social determinants of health, including what health systems can do to augment their patients' support systems.
With acute care in the home, Dr. Parodi said, "there is a much more comprehensive, holistic approach that I think is more real."
Note: To view the entire virtual fireside chat, visit the 2nd Annual Connected Health Virtual Summit website and register to access the webcast.