Stephen Parodi, MD, discusses evaluating the impact of social distancing with Politico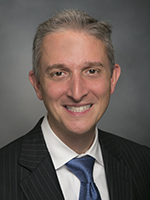 Stephen Parodi, MD, associate executive director and infectious disease specialist with The Permanente Medical Group (TPMG), explains the uses of data to determine whether social distancing is working in a Politico story published today.
The story, "All eyes on San Francisco Bay Area as nation's social distance bellwether," focuses on the variety and uses of data to determine both the efficacy of social distancing and the trajectory of COVID-19.
Major health care organizations including Kaiser Permanente are relying in part on call center data to gauge how many people are reporting potential coronavirus symptoms. Kaiser Permanente, academic medical centers, and hospitals are also working with state public health officials to provide data on how many patients have been hospitalized and how many are on ventilators — other key data points in tracking, the story notes.
Typically, TPMG in Northern California receives 4,000 calls a day as flu season picks up. On March 16, the day the 6 Bay Area counties announced a shelter-in-place order, TPMG received an unprecedented 14,000 calls about cold and cough symptoms. A week later, that number fell to about 8,500.
Dr. Parodi said he hoped that lower number indicated that social distancing had started to work. The decline could also suggest more people are turning to home care to manage their illnesses. Primary care visits have dropped about 60% as Kaiser Permanente members in Northern California have been urged to seek care remotely via various telehealth modalities including email, phone, and video conferencing.
"The ability to have a more defined approach to social distancing is going to be really important going forward," said Dr. Parodi, the lead physician for Kaiser Permanente's national coronavirus response. "If you can test large parts of the population, you can tell who is positive, who is negative, who needs to be socially distanced, and who doesn't need to be socially distanced."
To read the full story, visit the Politico website.