Stephen Parodi, MD, discusses benefits of continuing advanced care at home programs
Stephen Parodi, MD, associate executive director for The Permanente Medical Group, discussed the role hospital-at-home care delivery is playing in increasing patient satisfaction and quality outcomes while improving hospital capacity and instances of patient isolation in a recent HealthTech Magazine interview.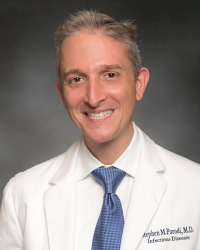 "Advanced-care-at-home programs are based on a growing body of evidence that show patients are more satisfied with their care," explained Dr. Parodi. "Patient functional mobility and activity tends to be higher, and quality outcomes are the same or better than being in a hospital."
Since 2020, many parts of the country have experienced limited hospital beds due to surges of patients battling COVID-19, and several health care organizations that are part of the recently formed Advanced Care at Home Coalition have found it safer to provide many patients with home-based care plans for a range of treatments, including infusions, skilled nursing, medications, laboratory and imaging services, behavioral health, and rehabilitation services.
Dr. Parodi added that patients with COVID-19, sepsis, or pneumonia have been candidates for advanced home care with Kaiser Permanente over the past 2 years, providing the organization valuable insight about how these practices can be applied in a post-pandemic setting for patients with other serious or complex conditions.
To make this possible, Dr. Parodi explained that flexibilities issued by the Centers for Medicare and Medicaid Services for acute-care services at home can help to extend these programs beyond the duration of the COVID-19 public health emergency.
Note: To read the full article, visit the HealthTech Magazine website.