Stephen Parodi, MD, calls for calm, focus, and ingenuity to beat COVID-19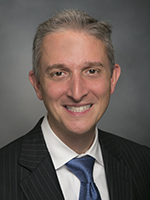 Stephen Parodi, MD, executive vice president of The Permanente Federation and Kaiser Permanente national infectious disease leader, calls for calm, focus, and ingenuity among private and public health care professionals as they work to mitigate the effects of the COVID-19 pandemic.
"Calm and focus are what we need as the U.S. now faces two pandemics — COVID-19, and fear," Dr. Parodi writes in a thought leadership article for MedPage Today. "To confront the real epidemic before us and put fear in its rightful place, we need to modify our approach, embrace mitigation strategies that are responsive to the current course of this disease, and prepare for the surge that lays ahead. These strategies will allow us to do two primary things: protect people and preserve the integrity of the health care system."
Dr. Parodi notes that social distancing measures — taken by communities at scale — work to reduce disease transmission, leveling the pace at which people need medical assistance. "While these measures will challenge us all in the short term, we need to keep our collective focus on the goal of removing this virus from our lives."
He outlines some of the innovative steps Kaiser Permanente has taken to help reduce spread of the virus and preserve resources for where they are most needed. For example, telehealth — including video visits and phone appointments — are an invaluable tool for clinicians and contribute to social distancing. By postponing or rescheduling elective surgeries, the organization is helping to ensure it has the capacity and equipment required to provide necessary care through this pandemic.
By taking these measures against COVID-19, Dr. Parodi writes, hospitals and medical centers are ensuring they will be there for others who still need help, including laboring mothers, patients with chest pains, and those planning for upcoming surgeries.
"Today, COVID-19 needs planning and mitigation, not panic and fear," he concludes. "We have the ingenuity and grit to persevere for as long as it will take."
To read the full article, visit the MedPage Today site.