Roberta Doucet, MD, of SCPMG tells personal COVID-19 story at virtual town hall
Roberta Doucet, MD, told her COVID-19 story and discussed safety, vaccines, and emerging variants as a participant in the URU The Right to Be virtual town hall on Monday. The forum covered wide-ranging topics from coping with COVID-19 to how the virus impacts different populations.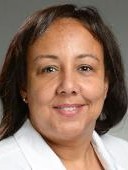 URU The Right to Be — a nonprofit organization led by producer, author, and filmmaker Crystal R. Emery — deploys multimedia to foster communications and understanding about diversity; Kaiser Permanente is one of its sponsors.
An anesthesiologist with the Southern California Permanente Medical Group, Dr. Doucet shared a personal anecdote about her own encounter with COVID-19 when she and several family members were exposed to the virus through a neighbor. Her husband and other family members suffered symptoms, but Dr. Doucet was not symptomatic because she had received her second dose of a COVID vaccine about 2 weeks before.
"I've told multiple people about my story," Dr. Doucet said. "They heard about how effective [the vaccine] was and how it stopped me from getting COVID and I didn't have to suffer the consequences."
She also shared an overview of COVID-19 and how it spreads; and addressed increased concerns around new variants from Brazil, South Africa, and the United Kingdom, as well as reported variants in New York and California.
"What's important about these variants is they allow for more rapid transmission and infection," Dr. Doucet said.
She added that stopping the spread of COVID-19 is one of the most important steps we can take to limit the number of variants, as more instances of the coronavirus create additional opportunities for variants to emerge.
As vaccines roll out, Dr. Doucet said it remains critical to follow COVID-19 safety protocols such as mask wearing and hand-washing. She also emphasized that it's important to "physically distance, but don't socially isolate" in order to maintain physical and mental well-being. To support mental and emotional health, she recommended maintaining contact and relationships through media such as phone calls, text, and virtual forums like Zoom, as well as finding opportunities to do fun outdoor activities such as hiking.
"I have high hopes that this pandemic will end, and we will conquer this," she added.