Imelda Dacones, MD, highlights the power of Permanente Medicine to create a better future for physicians and their patients
Imelda Dacones, MD, president and chief executive officer, Northwest Permanente (NWP), highlights the benefits of the Kaiser Permanente integrated health care model for physicians and patients in a wide-ranging interview on The Next Big Thing in Health, a new podcast series from America's Health Insurance Plans (AHIP).
Among the topics Dr. Dacones touches on in the podcast, hosted by Laura Evans and AHIP President and CEO Matt Eyles, are the benefits of practicing Permanente Medicine – medicine that is person-centered, compassionate, evidence-based, technology enabled, team-delivered, and physician-led. To illustrate these benefits, she discusses her own experience as a Permanente physician and NWP leader engaged in innovative work to address adverse childhood experiences, and to reduce opiate prescribing.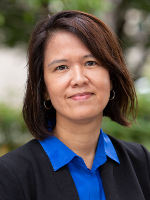 The Permanente Medical Groups, Dr. Dacones explains, "are self-governing, autonomous medical groups, and that allows me as a physician to practice…ethical…evidence-informed medicine…I don't have to call somebody (to get authorization) if I'm ordering a medicine or an imaging test." She explains such freedom stems from the fact that guidelines for prescribing, ordering tests and treatment are all physician-led. "And then we have great partners in Kaiser Foundation Health Plans and Hospitals who support all of that," she adds.
She adds that Kaiser Permanente as a system is very efficient, because it has two levels of integration. On one level, she says, "you have your care and coverage under one roof." The second level of integration occurs within each medical group, where primary care physicians and specialists are all connected by one electronic health record.
That means a physician can see what screenings a patient has undergone, what specialists they have seen, and what medications they have been prescribed. In practice, it also means, "I know what medications you are taking so in the moment, I don't have to worry about drug-to-drug interactions…And when we do telemedicine…I'm not treating you without all that context. That's very powerful – that differentiates our telehealth and telemedicine functions."
Dr. Dacones highlights Kaiser Permanente's groundbreaking research on Adverse Childhood Experiences (ACEs), and ongoing work to identify, prevent, and treat trauma in children. About 18% of children go through nearly four Adverse Childhood Experiences (ACEs), such as domestic violence, mental illness in the family, or loss of a parent. Children who suffer such ACEs are four times more likely to suffer from depression and chronic medical illnesses at some point in their lives. Intervention, Dr. Dacones adds, is the key to better health outcomes long-term.
She relates the story of a teenager she calls "Julie," a Type 1 diabetic. Julie was living in a home where the floors were rotting, her mom was working two jobs, and Julie herself was just focused on surviving. Over the course of 25 months, she had 30-35 ED (emergency department) visits, she was hospitalized twice, and she tried to commit suicide twice. NWP connected Julie with community resources that made a dramatic difference in Julie's life. "I can happily report that she…just graduated from high school and is going to college and working part time," says Dr. Dacones.
Dr. Dacones also touches on the ways NWP has innovated to dramatically reduce opiate prescribing among adolescents undergoing surgery and among adults who suffer chronic pain.
To hear the full podcast, "Creating a Better Future for Kids: Permanente Medicine," visit the AHIP website.