Becker's Spine Review Spotlights Orthopedic Surgeon Ron Navarro, MD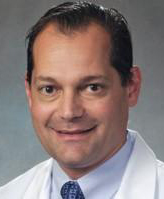 Ronald Navarro, MD, regional chief of Orthopedic Surgery for Southern California Permanente Medical Group, stars in a recent Becker's Spine Review's "Orthopedic surgeon to know" column, a daily feature on a surgeon excelling in his or her field.
In his role, Dr. Navarro provides leadership to more than 200 orthopedic surgeons in 13 Kaiser Permanente medical centers, from Santa Barbara to San Diego. He has also been a champion and key adviser in spreading Kaiser Permanente's National Total Joint Replacement Initiative, which aims to reduce the length of hospital stays for patients following elective total knee or hip replacements.
The column highlights Dr. Navarro's expertise in shoulder arthroplasty and cartilage restoration.
To read the entire story, visit Becker's Spine Review's site.