Amanda Williams, MD, shares insights on delivery due dates for babies in New York Times article
Due dates have become a focal point for new moms as they plan for their babies' arrival, but it can also add stress and concerns when they're "overdue." Permanente obstetrician-gynecologist Amanda Williams, MD, MPH, commented on the attention to due dates in a recent New York Times article: "How Realistic is Your Due Date?"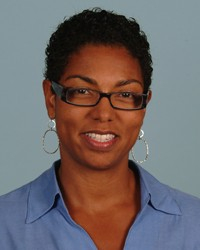 The article, which appears in the Times' new Parenting section, offers a first-person perspective from writer Alice Callahan, a mother of two and book author. She writes about the imprecise science of determining due dates, which is set based on a normal pregnancy of 40 weeks.
The story cites data showing 10% of 3.8 million babies born in the United States in 2017 were preterm (before 37 weeks), 57% arrived in weeks 39 to 40, and just 6% in week 41.
Dr. Williams, an ob-gyn physician with The Permanente Medical Group in Northern California and maternity director at Kaiser Permanente Oakland Medical Center, highlighted how many studies on pregnancy length are conducted in white populations. This means research miss important factors affecting other populations, such as African- and Asian-American communities where women are often at risk for pre-term births.
Dr. Williams, who has focused attention on black maternal health and the risks for African-American pregnant women, says when deciding on whether to induce labor, she considers other factors beyond the due date, such as the risks of diabetes or high blood pressure if the pregnancy continues for too long.
"Medicine, especially pregnancy management, is as much an art as it is a science," Dr. Williams is quoted as saying. "And we have to individualize our care and take as much information as possible about that person and that pregnancy as we're making decisions. There are very few absolutes in obstetrics."
To read the full story, visit the Times' Parenting section (registration may be required).